FORNEY, Texas — The Forney City Council will host a public hearing during a special meeting called for Monday, August 30 at 6:30 p.m. to discuss a temporary moratorium for residential development, including single and multi-family residential development within the city limits.
The hearing scheduled for Monday, is just one of two public hearings on the matter.
The second public hearing will be held during the planning and zoning commission on Thursday, September 2, 2021 at 6:30 p.m. Both hearing are scheduled to be held at city hall in the council chambers.
According to the public notice issued by the city this week, "Recent applications for new residential development have demonstrated that current regulations may be inadequate to control the impacts of such growth and development on the surrounding street network, water and wastewater facilities and other public facilities."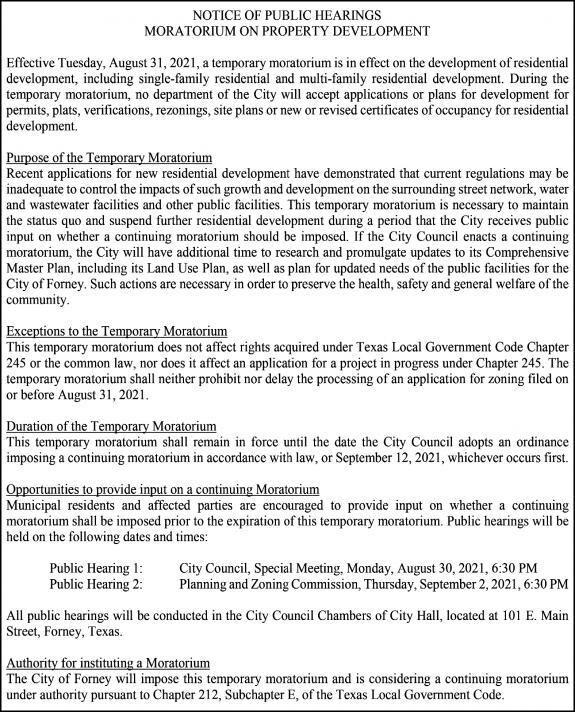 The temporary moratorium is scheduled to be effective August 31, 2021. During this time, no department of the City will accept applications or plan for development for permits, plats, verifications, re-zonings, site plans or new or revised certificates of occupancy for residential development according to the notice.
"This temporary moratorium is necessary to maintain the status quo and suspend further residential development during a period that the City receives public input on whether a continuing moratorium should be imposed, If the City Council enacts a continuing moratorium, the City will have additional time to research and promulgate updates to its Comprehensive Master Plan, including it Land Use Plan, as well as plan for updated needs of the public facilities for the City of Forney. Such actions are necessary in order to preserve the health, safety and general welfare of the community," the notice says.
The temporary moratorium will not effect developments already approved or underway.