FORNEY, Texas — Forney Chief of Police says his department is prepared for a possible protest that has been scheduled for this week and widely circulated on social media over the weekend.
A picture posted online shows a letter that was created to invite people to a protest at Forney City Hall this Friday.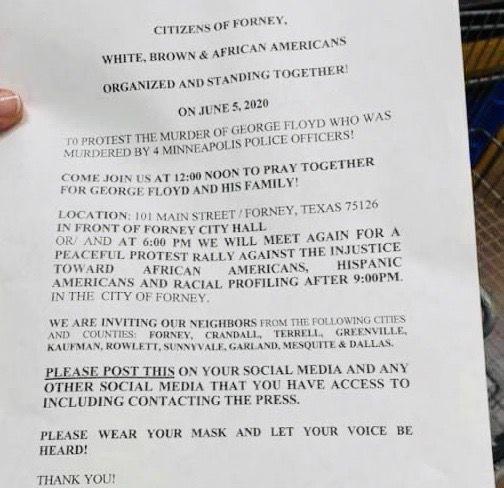 "CITIZENS OF FORNEY, WHITE, BROWN & AFRICAN AMERICANS ORGANIZED AND STANDING TOGETHER ON JUNE 5, 2020 TO PROTEST THE MURDER OF GEORGE FLOYD WHO WAS MURDERED BY MINNEAPOLIS POLICE OFFICERS!" the letter begins.
According to the picture the event is scheduled to begin at noon with a prayer in front of city hall. The event will reconvene at 6PM, "WE WILL MEET AGAIN FOR A PEACEFUL PROTEST RALLY AGAINST THE INJUSTICE TOWARD AFRICAN AMERICANS, HISPANIC AMERICANS AND RACIAL PROFILING AFTER 9PM IN THE CITY OF FORNEY," the letter says.
Forney Police Chief Mica Lunt says while they have not been contacted by the event organizers, they will be prepared.
"We have an operational plan ready if we need it," Chief Lunt tells inForney.com Monday morning.
Protests have emerged across the country since the murder of George Floyd last week. While the majority of protests have remained peaceful, others have ignited looting and vandalism in their wake.
After declaring a state of disaster in response to damages caused during recent Texas protests, Governor Greg Abbott deployed thousands of additional state troopers and National Guard members to several cities on Sunday afternoon, his office announced.
The order gives the governor the ability "to designate federal agents to serve as Texas Peace Officers," officials said.
Abbott also deployed thousands of state troopers and more than 1,000 Texas National Guard members Sunday to Houston, Dallas, San Antonio and Austin. Federal law enforcement officers will also aid state and local law enforcement as needed.
"Texans have every right to exercise their first amendment rights, but violence and looting will not be tolerated," Abbott said.