CRANDALL, Texas — UPDATE [Nov.18] — A Crandall teen's Eagle Scout project aimed at filling the food bank at the Kaufman Christian Help Center was an "overwhelming success."
The benefit concert and food drive collected 1,439 pounds of non-perishable food items; 49 pounds of paper goods, including toilet paper, paper towels, tissues; and 168 pounds of personal hygiene items.
ORIGINAL [Nov. 6] — A Crandall teen's Eagle Scout project aims to fill the food bank at the Kaufman Christian Help Center with a concert and food drive event on November 14, 2020.
The project couldn't come at a better time with Thanksgiving around the corner and food pantries across the country ramping up for increased food demand.
Garrison Moore, who has a love for music, says he wanted to plan an Eagle Scout project that would benefit the community while tying in a musical aspect. So, Moore has planned the Nov. 14 concert to draw in area residents who will be allowed admission with a food donation to The Center.
"Being a Boy Scout has taught me that giving back to the community is very important," Moore tells inForney.com. "My hope is to fill a trailer full of food and essential items The Center needs to assist those in need with the upcoming holidays."
Due to COVID-19, Moore says he planned the event for outdoors so that those attending could socially-distance and enjoy the concert while still giving back to a great organization helping to support a great cause.
Moore has been heavily involved in scouting since he was five years old, his parents, Mike and Natasha West, tell inForney.com. He is currently a Life Scout with Troop 375 in Crandall and is a Sea Scout with SSS 1899 holding the rank of apprentice and post of Yeoman.
"A couple of years ago Garrison started middle school band playing tuba and fell in love with music," his parents say. "It turned into a passion for bass guitar and now he is a member of the CHS Rock Band. It doesn't stop there though, now he is learning the piano and wants to learn drums next year."
"When he told us that he wanted to host a benefit concert for his Eagle Scout project, we weren't at all surprised."
"He has always wanted to do a project that was unique to him and doing something that the community would remember and really respond to," said Mike. "I told him it would be a lot of hard work organizing a concert and he has met the task with ease."
After meeting with The Center's director, and learning of the families The Center helps each month, Moore was more determined than ever to make the Nov. 14 event a success.
The Nov. 14 event will feature the Crandall High School Rock Band, for which Moore is playing the bass guitar, and John Nutt's band Mile Post 595.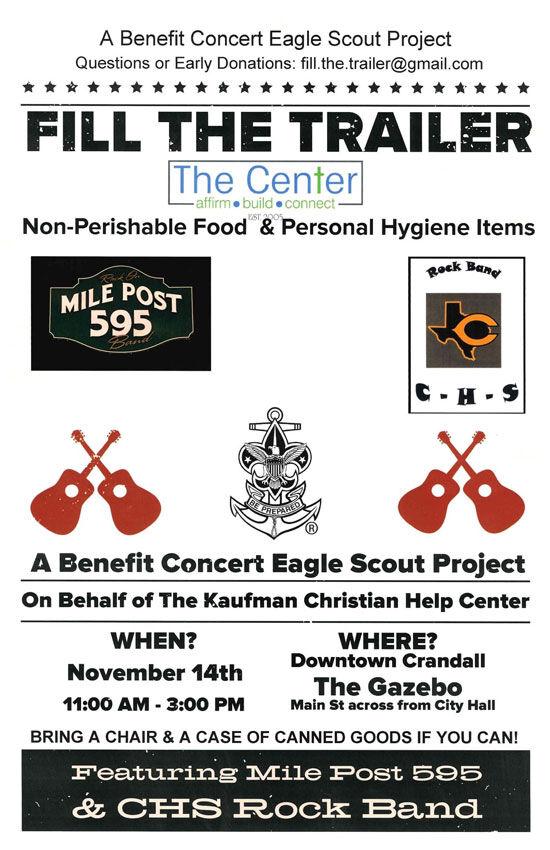 The City of Crandall is helping to promote the event, has reached out to food truck and trailer vendors, and has agreed to shutdown Main Street during the duration of the event.
"Garrison is an awesome young man and I am glad he is allowing the city help him with his Eagle Scout project," City of Crandall Mayor Danny Kirbie tells inForney.com. "We as a city is always wanting to help our youth achieve there goals."
"We love his passion and are encouraged by his attitude and hope he never loses his compassion for helping people," his parents say. "We look forward to the concert and have no doubt that Garrison will achieve his goal and earn his Eagle Scout rank."
The November 14th concert and food drive will be held from 11 a.m. until 3 p.m. at the gazebo in downtown Crandall across from Crandall City Hall. Those attending are encouraged wear a mask, practice social distancing, bring a chair, and a case of canned or non-perishable foods or personal hygiene items. No cash will be accepted.
A list of the items currently in need at The Center include canned meats, canned soups, beans dry packaged or canned, pasta, pasta sauce, noodles, rice, Mac N Cheese, peanut butter, toilet paper, paper towels, Kleenex, napkins, toothpaste, toothbrushes, deodorant, diapers, baby wipes, body wash, shampoo, and conditioner. Those unable to attend the concert can also drop off donations at the Forney Taekwondo Center at 1102 Ranch Road in Forney, Texas.
Visit the event's Facebook Page, here.
To learn more about The Center in Kaufman, visit their website, here.
Is your Kaufman County-area child/student doing good in our community, we'd love to share their story. Send us an email at News@inForney.com.
We want to share your good news! Are your children/students doing something positive this summer to help our Kaufman...

Posted by inForney.com on Monday, June 15, 2020