KAUFMAN COUNTY, Texas — During their final public meeting on Wednesday night, the Kaufman County Citizens' Monument Commission reviewed 554 surveys and weighed public comment they say "overwhelmingly" supports leaving the Confederate monument in its current location at the front of the Kaufman County Courthouse.
The commissioned had been charged with providing a recommendation to the Kaufman County Commissioners' Court during their November 10, 2020, meeting.
Instead, the commission voted unanimously to present the findings of the 554 surveys and results of public comments made during public meetings held throughout the county over the past several weeks — the results of which, the commission says overwhelming supports leaving the monument in its place.
Approximately a dozen people were in attendance of Wednesday's meeting which lasted about an hour.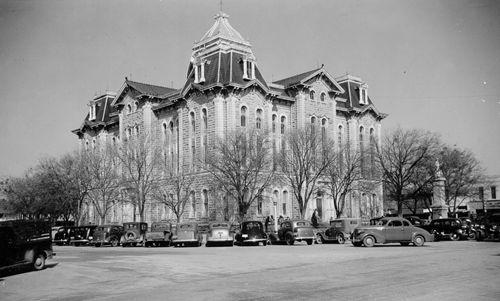 According to the East Texas Historical Commission, the monument was erected and dedicated in 1911 in front of the original courthouse that was built in 1887. The artist is unknown.
"The Confederate monument, constructed in 1911, was moved to a safe place during the demolition of the 1887 courthouse and restored to its current location once the 1956 courthouse was completed," a commission paper reads.
According to a 1996 book written by Carol Morris Little, entitled, "A Comprehensive Guide to Outdoor Sculptures in Texas", the monument was funded by public donations through a campaign drive led by a local resident, Joseph Huffmaster.
"The original gun barrel, frequently defaced and finally lost or stolen, has been replaced with an actual gun barrel," Little wrote.
The granite base of the memorial is inscribed, "Erected to the memory of the Confederate soldiers by the people of Kaufman County 1861-1865. No soldiers ever fought more bravely on the field or suffered greater privations for their country. Honor to their memory, glory to their cause and peace to their ashes. They went down into battle at the command of their state and fought for their Constitution, homes and firesides."
Should the commissioners' court vote to remove the statue, the court must submit in writing a notification to the Texas Historical Commission, in accordance with Texas State Law Sec. 442.008, 180 days prior to initiating any work other than basic regular maintenance or in-kind repairs to the courthouse or its square.
"The county commissioners could vote to remove the monument, or make other changes to the courthouse, but they have to notify our agency 180 days in advance before they could begin work," says THC spokesman Chris Florance.
"Violations of this notification can result in a potential fine of up to $1,000 a day that may be imposed on counties who do not comply with the law," Florance said.