FORNEY, TEXAS — During what has been a chaotic time for law enforcement and first responders — amidst COVID-19 followed by rallies and protest across the country for racial injustice and police brutality — one local family had a unique opportunity to give back to law enforcement in ways they couldn't have imagined.
James Reed, his son Tyler Reed and brother-in-law Brian Shields all donated themselves to the Forney-Terrell SWAT team this past week to play suspects and hostages in various situational training scenarios.
Recreating these real-life scenarios allows law enforcement to practice and train at the highest level and plan for different situations they may see in the field.
"It was pretty surreal to see how much work and training goes into these guys and how skilled they are," Reed tells inForney.com. "These guys put their lives on the line every day, never knowing what they are walking into. It was an eye-opening experience, and I definitely feel safe knowing those guys are around."
Reed said some of the scenarios they exercised were very real and intense.
"Our adrenaline was pumping like crazy," Reed said. "I have always had a great respect for law enforcement and first responders, and that certainly hasn't changed. My son is interested in a career in fire service, and that makes me immensely proud."
"We appreciate James and his team for assisting our Terrell-Forney SWAT team with training. James, Tyler and Bryan made some great 'bad guys' for the scenario training," read a statement from the Terrell Police Department.
Reed and his family are no strangers to giving back to their community. As owner and proprietor of Stiky Ribz BBQ in Forney, Reed has a long-standing reputation of helping others.
When COVID-19 forced Reed to close his newly constructed restaurant to patrons in March, he kept the smoke going on his massive pits, which was built by students from the Forney High School Ag department, to cook food for local police departments, fire departments, sheriff's departments, and local medical facilities staffed by frontline workers while closed to his loyal following of customers.
"We are a family operation here, and I wanted to do everything I could to protect them and our loyal customers," Reed said. "We decided to close for a few weeks, but I knew we could still find a way to help and support first responders and frontline workers who never stopped working."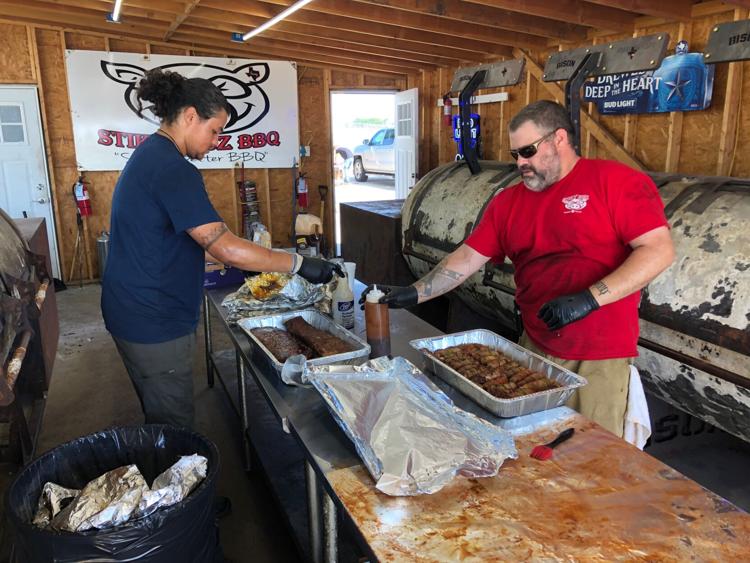 Reed and Stiky Ribz grew from humble beginnings. Growing up grilling and smoking with his grandfather, he says he had no aspirations to be in the restaurant business. Years later, Reed began experimenting with a small New Braunfel's smoker that he salvaged from a neighbor.
From there, his love and passion for food and people has turned a once telephone lineman into a local restaurateur and pit master with a loyal following of barbecue enthusiasts.
From his driveway where he served his neighbors a few years ago, today Reed has over 4,500-square feet of restaurant space not including outdoor seating. Combined with his catering operation, Reed serves over 2,000 lbs. of brisket slow smoked on Texas post oak a weekend.
"Every day we are learning something new," Reed says. "Barbecue is different. Every brisket is not created equal, and we take that to heart here."
Reed says that while they are still only offering outdoor seating and to-go orders, they hope to have their dining room open to patrons very soon.
"Nothing happens here without the whole team," Reed says. "I have a lot of family working alongside me here, and even those who aren't related, are still considered family. Everyone here has a passion for barbecue and our community. If we didn't, we wouldn't be here."
For more information on Stiky Ribz BBQ go to www.stikyribzbbq.com