TERRELL, Texas — When Dr. Georgeanne Warnock gets ready for work on Monday morning, she's not just starting a new year with a new job. She is also making history.
For the first time in the district's 137-year history, Terrell ISD has a new female superintendent of schools.
Born and raised in Friendswood, Texas, a once small suburb of Houston where her mother owned and operated the local florist, Warnock says she learned early on the value of community and love for reading and school.
"I cannot remember not wanting to be a teacher," Warnock recounts. "I think I always knew that education would be the path for me. I really think it is the profession that touches every other profession. There won't be doctors, astronauts, writers and artists if we don't have great teachers."
Warnock earned her bachelor's degree at Trinity University in San Antonio, before getting two master's and her doctorate from the University of North Texas in Denton. She has spent the entirety of her teaching career at Carrolton-Farmers Branch ISD where she started as a high school teacher in 2000.
After 4 years as a classroom teacher for students that ranged from challenged learners to gifted and AP students, Warnock was encouraged to look at an opportunity as an Assistant principal.
"I never thought I would leave the classroom," Warnock says. "I never wanted to be an administrator. Never. But I found that administration is still teaching, just a smaller classroom."
In 2009 Warnock was named principal of a struggling R.L. Turner High School. In 4 years, she turned the school's reputation around while also increasing the graduation rate and student performance on state testing in all subjects.
Since 2013 she has served as Associate Superintendent of Educational Services for Carrolton-Farmers Branch ISD where she has been successful in raising graduation rates, test scores, securing grant and scholarship funding and building career certification programs while taking the district from 78 (C) in State accountability in 2017, to 89 (A) in 2019.
Warnock says she was attracted to the community of Terrell as well as the school district when she applied to be the next superintendent after the vacancy was announced.
"We started looking for communities that we really felt like we could call home," Warnock says of her and her husband, who is a middle school principal. "This is definitely a place we could see ourselves living and the more I learned about the school district and saw the innovation that was happening here, I was excited about the chance to continue leading from that place of excellence."
Warnock says she believes her skill set aligns with the districts needs and the more she visited with board members and staff she felt confident that Terrell ISD is where she was called to be. She says the warm welcome from the community, staff and students has made the decision even more exciting.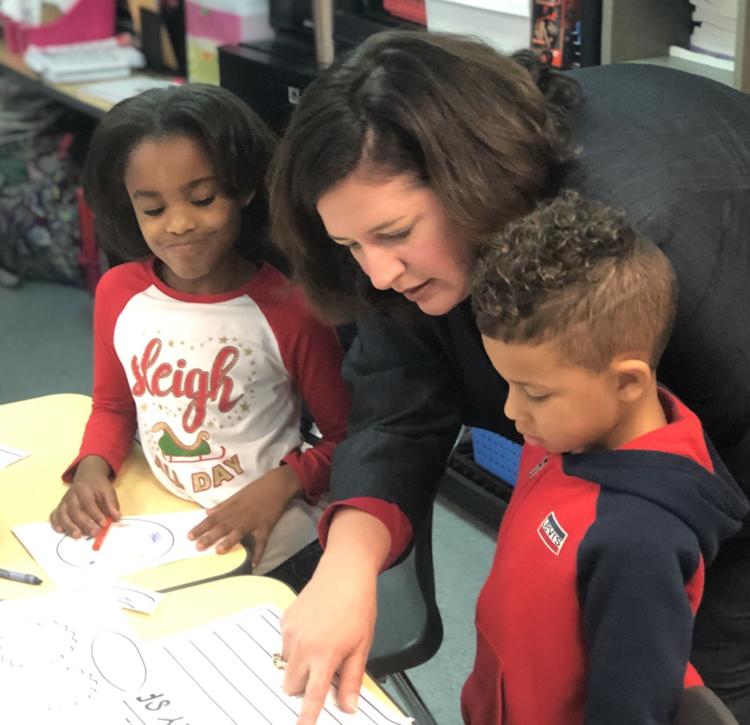 Warnock brings with her what she calls a "student-first mindset" which means that the students are at the forefront of every decision that is made.
"When you are sitting down at the table and there is a difficult decision to make, the first question I always ask is, 'What's going to be best for the student?' and I think about the children of our schools as my own children," Warnock says.
Warnock's message to students is simple.
Work hard. Be Kind.
"In this life if you follow that advice, you can go really far," Warnock says. "The future is wide open. There are incredible programs in place in this district to prepare students for their future. Following that advice, the world really is their oyster."
For faculty and staff, Warnock says that first and foremost she is a relationship builder and that they must be looking ahead and willing to lead with love.
"You have to lead with love. If you don't lead with love, you won't be willing to make the sacrifices you need to make for the people that are in your care. The teachers are the leader in their classroom, the principals are the leaders in their buildings. It goes throughout the organization," Warnock says.
"I am a transformational leader and I want us to think about preparing the students for their future, not for our future. They are going to be living in a very different world than what I was being prepared for when I sat in their seat. We have to be thinking future ready and what will that look like so that we have the best preparation for the students that are entrusted to us."
Warnock says parents and stakeholders can expect her to be honest and transparent, and that she will also work hard and be kind. In return she's asking for parents and the community to invest in their schools and make education a priority.
"That's the number one thing parents can do for their children is talk to them about how important education is. That school is important, and we support our teachers and education is a priority," Warnock said.
Warnock says she personally plans to be active and invested in the community and believes that the community at large also has a responsibility and obligation to invest in their schools.
"Schools can't do it alone," Warnock says. "It takes an entire community wrapped around our most precious resource, which is our children, in order to make a difference for the community. Strong communities have strong schools and strong schools are a product of strong communities. I see that community strength here in Terrell and I can't wait to join in that partnership."
Outside of school, Warnock dedicates most of her "free" time to her four sons through her blended family. With three teenagers and a twelve year- old who are all involved in sports and extracurricular activities, there is little down time around her house. But when time allows, Warnock says you might find her deep in a book.
A few years ago, Warnock made a new year's resolution to read 52 books in a year; one she kept and accomplished. This year her resolutions are a little bit different and she's found herself writing a new chapter of history for herself, her family and the Terrell school children.
"The first day on the job I am most excited about meeting the teachers and staff," Warnock says, "But I am most excited about day two on the job, because that's when our students come back. I can't wait to walk halls, visiting with students, meeting them and seeing our schools in action. My first priority is to build relationships. I have to get to know people, get to know what their strengths are then we will take off from there."