KAUFMAN COUNTY, Texas — County Judge Hal Richards did not want the public aware of COVID-19 testing ordered by the Governor in Kaufman over the weekend.
Governor Greg Abbott announced on April 20, that the Texas National Guard would be mobilizing more than 1,200 personnel as part of COVID-19 mobile testing teams (MTT). The 45 member teams will be mobilized in various parts of the state providing greater access to free medical testing.
"The areas for these MTTs will be identified by the Texas Department of State Health Services (DSHS) with the first two of the 25 teams deployed to Fredericksburg and Floresville, Texas. The remaining 23 teams will be deployed to additional locations based on assessments made by DSHS," the release stated.
On Friday, May 1, at approximately 12:52 p.m., Richards sent an email from his official County judge email account entitled, "FOR OFFICIAL USE ONLY Not to be disclosed to the public," according to a copy obtained by inForney.com
The email detailed information about the mobile testing provided by the Governor's order that would be held at the Kaufman Fire Station. The email also indicated that the testing was for county employees only.
"It is important that we use all of the tests being made available," Richards said.
"This is not for dissemination to the public due to the limited number of tests and we want to minimize any surge of people or traffic issues," the email concluded.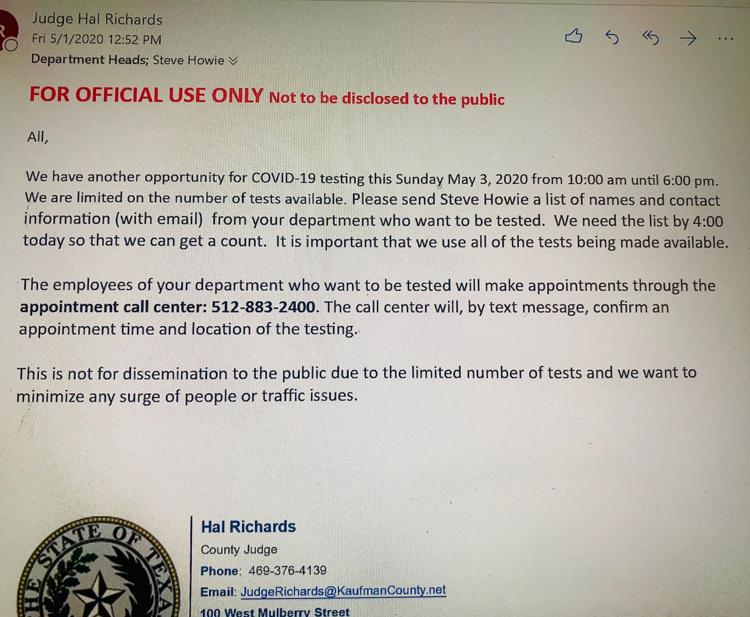 The email was sent to all Kaufman County department heads and some elected officials.
County employees were given the first opportunity to register for the free testing, despite their medical insurance, provided by the county, already covers the expense.
BlueCross Blue Shield of Texas (BCBSTX)is the health insurance provider for Kaufman County employees. BCBSTX went public in late March that they would cover all expenses for COVID-19 testing and subsequent treatment if needed, for all its policy holders across the state.
According to mobile testing organizers, there were tests to spare.
"91 tests were performed in Kaufman on Sunday. 13 others had scheduled appointments, but were no shows," Seth Christiansen, a spokesperson for the Texas Department of Emergency Management (TDEM) tells inForney.com.
While the Judge's actions were unusual and highly unethical, they were not unlawful according to officials.
"Judge Richards is acting pursuant to TDEM guidance," District Attorney Erleigh Wiley tells inForney.com. "I am not aware of any facts that indicate the Judge is acting outside of his authority."
Richards does not have the legal authority to instruct any employee or elected official to withhold public information from anyone according to authorities.
In a press release issued by the county Monday, the county says the testing site was for a targeted group selected by Richards.
"When notified of the Kaufman County mobile testing site, County Judge Hal Richards as an "original classification authority" received guidance from TDEM to notify a target group of people for initial testing. After giving the target group a chance to be tested, the mobile testing site was open to any other persons wanting to be tested," the release read.
The Texas Department of Emergency refuted those claims Monday evening and said that there are no targeted groups for the mobilized testing.
"No, there are no targeted populations for our mobile testing. Anyone in the public who registers and has active COVID symptoms are eligible," Christiansen said. "Over 10,000 Texans have had a test collected in over 150 counties."
Results from the testing are expected this week and statistical data will be officially released by DSHS according to Christiansen.
This is not the first time Richards has been criticized for his lack of transparency during the county's response to the COVID-19 pandemic.
Last month Kaufman County Commissioner Pct. 4, Ken Cates, requested an emergency meeting of the commissioner's court after Richards abruptly changed how the county was reporting confirmed COVID-19 cases.
"Due to the lower population of Kaufman County and smaller towns, providing details could possibly identify a person and violate privacy laws, therefore, the county cannot share the information," Richards said in an April 9 release.
A commissioners meeting was scheduled for the following Monday, because Richards was on "personal travel" to West Texas, despite his own shelter in place order that was still in place.
The emergency meeting ultimately never happened as Richards abruptly changed course again and began sharing more data than previously upon his return.
"I take this role seriously and I am always available to respond to situations as they arrive," Richards said in a release issued April 13.
Multiple attempts by inForney.com to reach Judge Richards for comment on his actions and the email sent Friday have been unfruitful.