KAUFMAN COUNTY, Texas — Kaufman County has released details on its proposed $104.1 million transportation bond and $50 million facilities bond which voters will see on their November ballot.
In August 2019, the Kaufman County Commissioners' Court voted to place the two bond referendums, Proposition A and Proposition B, on the November ballot.
Specific bond items were not immediately known to the public following the August vote. Earlier today, however, Kaufman County released details on both bond referendums —  what facilities are sought for improvement or new construction and which roads, whether city, county, or state, would be slated for transportation dollars.
Kaufman County voters overwhelming voted to approve a $56 million transportation bond in 2013. Kaufman County Judge Hal Richards says almost all of the 2013 bond transportation projects have either finished or funded — at a rate of approximately $7 for every dollar committed by the county. That same year however, a $19.9 million justice center bond failed at the polls with 50.62% voting against the measure – a mere 57 vote difference.
Proposed Facilities Bond Projects — Proposition B
The majority of the $50 million sought in the facilities bond is slated for new construction of a Kaufman County Justice Center adjacent the Kaufman County Sheriff's Office. The justice center project is estimated at $37 million and will be home to all justice courts, the District Attorney's Office, the District Clerk's Office, the County Clerk's Office, pre-trial diversion court, and the justice of the peace courts.
If approved, and construction of the new justice center, $2.4 million is estimated for renovations to the Kaufman County Courthouse to house the Tax Assessor-Collector's Office, additional County Clerk offices, Developmental Services, Purchasing, Veteran Services, the County Judge, IT, Human Resources, and the Auditor's Office.
$3.8 million is estimated for a Kaufman County Sheriff's Office substation on 15 acres adjacent North Forney High School to serve as a law enforcement and first responder facility as well as a criminal justice and first responder educational facility for Forney Independent School District students. A lease agreement between the Kaufman County Sheriff's Office and Forney ISD restricts housing of inmates at the substation.
The bond proposal also calls for a $2.6 million Kaufman County commitment on a joint-venture with the City of Terrell to build a new 7,500-square foot municipal and county services building. An estimated $1.7 million is designated to expand existing or acquire an additional 5,000-square feet for the Kemp Sub-Courthouse, and $600,000 is estimated to add 1,500-square feet at the Forney Sub-Courthouse.
The facilities bond proposal also designates $1.9 million to construct a new 7,000-square foot Regional Animal Shelter and adoption center to be built and operated co-operatively with cities and developers, according to the county. The shelter would likely be built on Kaufman County property adjacent the Kaufman County Jail.
Proposed Transportation Bond Projects — Proposition A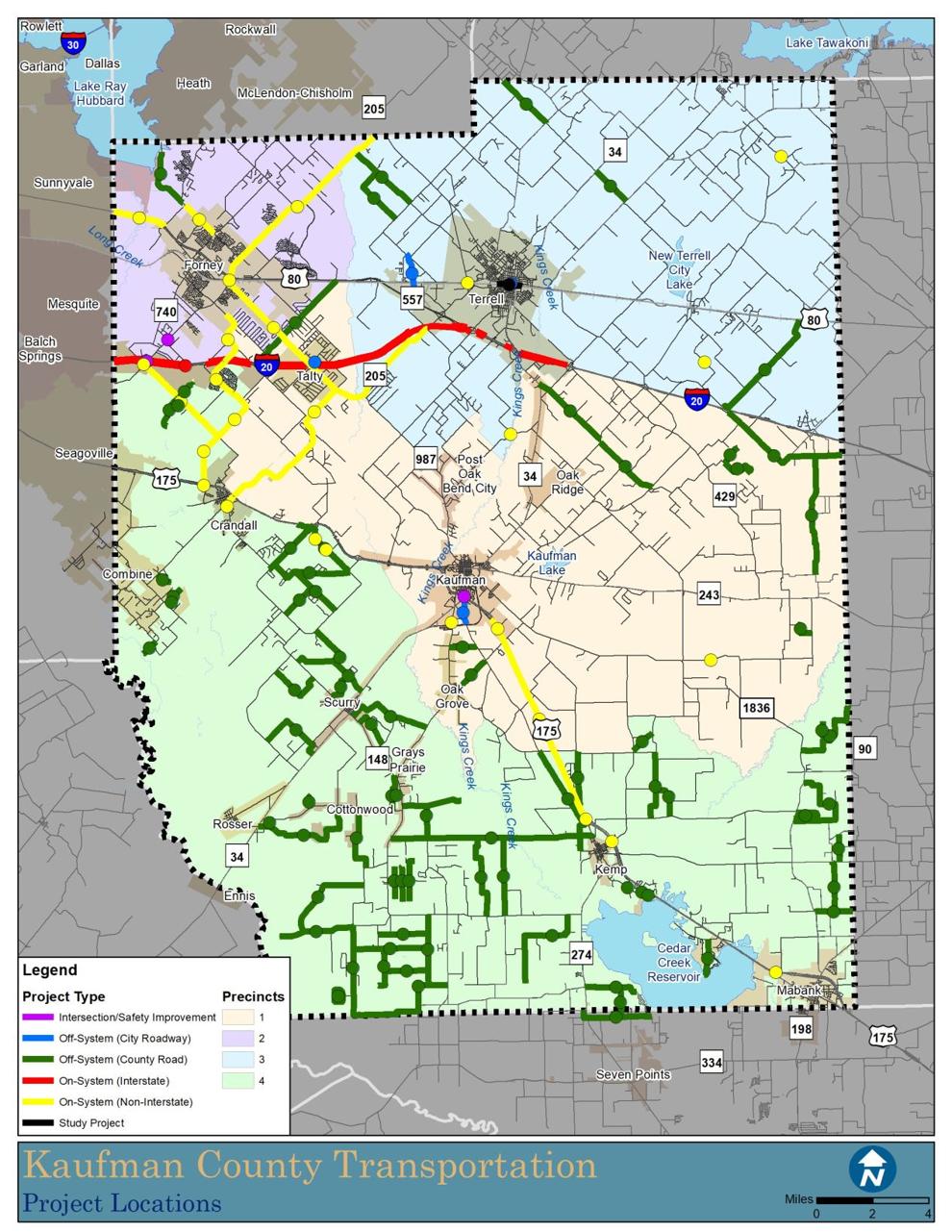 The transportation bond program is divided into several categories for county-wide projects and for each of the four precincts. Additionally, the program includes projects both on- and off-system with funding for county roads, city roads, and state roads.
Kaufman County officials have previously said the funds for state roads would likely be used in addition to funds committed by the state or participating municipalities, much like the previous $56 million bond program approved by voters in 2013, to jump start or expedite projects important to the county and cities.
County-wide projects account for $22.2 million of the proposed $104.1 million transportation bond with Precinct 1 estimating $20.08 million, Precinct 2 estimating $21.54 million, Precinct 3 estimating $18.45 million, and Precinct 4 estimating $21.81 million in projects.
County-wide projects include an estimated $900,000 for STAR Transit funding, $3 million for continuous frontage roads on U.S. Highway 175 from County Road (CR) 166 to North Elm Street, $200,000 for a county road plan and $2 million to manage the plan, $1.5 million to widen Farm-to-Market (FM) 148 from U.S. Highway 175 to Interstate 20, $1 million to widen FM 1641 from FM 548 to FM 148 to a four-lane urban facility, and $5 million to realign FM 148 from FM 3039 to U.S. Highway 175.
$7.1 million is estimated to add 0 to 4 lane continuous frontage roads on Interstate 20 from the Dallas County line to Wilson Road in Terrell. An unspecified amount is designated to reconstruct and widen 4 to 6 mainlanes on U.S. Highway 80 from Lawson Road to FM 460 and construct continuous frontage roads in the same segment.
An additional $80,000 each is designated to replace bridges on CR 4106 at two draws, CR 338 at Duck Creek, CR 110 at Jones Creek, and CR 312. $120,000 is estimated for bridge replacement on CR 279 at Bachelor Creek Relief.

Precinct 1 proposes, among other projects, $11 million for pavement reconstruction and culvert replacement on portions of Abner Road phases 1 and 2, Hiram Road, CR 109B, CR 120, Taylor Road, Merle Drive, CR 124/Frann Drive, CR 152, and CR 153/Fair Road. $5 million is slated to widen Tabor Parkway, also known as CR 151, to four lanes from Kings Fort Parkway to west of the SH 34 bypass. $2 million is estimated for turn lane and traffic signal improvements at the intersection of SH Business 34 intersection and U.S. Highway 175 — adding additional turn lanes and u-turn lanes with reconstruction of the U.S. Highway 175 bridge as needed.
An estimated $6 million of the Precinct 2 project funding is slated for pavement reconstruction and culvert replacement on miscellaneous county roads. $2.64 million is estimated to reconstruct Lake Ray Hubbard Drive from FM 740 to Travis Ranch Boulevard, $3 million for preliminary engineering on Helms Trail, $2.5 million to widen FM 740 from Pinson Road to FM 460, and $1.1 million to add turn lanes and a traffic signal at the intersection of FM 740 and FM 548.
$2.8 million is estimated to widen portions of FM 740 at Interstate 20 and FM 2757 to a four-lane divided roadway and the same to FM 2757 between FM 740 and FM 741. $2 million is estimated to widen FM 741 to a four-lane divided road  from Interstate 20 to Monitor Boulevard.
A notable earmark in Precinct 2 is $1.5 million designated for grade separation on FM 548 at the railroad crossing just south of U.S. Highway 80. A project component sheet does not give specifics on the grade separation or the city and state's involvement and funding on the project.

$10 million in Precinct 3 funding is designated for roadway reconstruction and culvert replacement on Colquitt Road, Samuels Road, CR 249, CR 314, and CR 322. $750,000 is estimated for design and matching funds to reconstruct Adelaide Street in Terrell from East High Street to East Cottage Street and $2 million is designated for evaluating, studying, and design of Union Pacific Railroad quiet zones at various locations in Terrell.
$5.7 million is slated for the construction of a continuation of Los Lomas Parkway north, from its current location near Spur 557, to the intersection of CR 237 and FM 1392 — to improve north-south mobility, increase potential development in the area, and decrease congestion at crossings. The project proposes a bridge over U.S. Highway 80 and the Union Pacific Railroad.

Precinct 4 proposes $13 million for pavement reconstruction and culvert replacement on various roadways throughout the precinct which stretches from the south Forney area, to Crandall, south of Kaufman, and to southwestern and southeastern Kaufman County.
$1 million is funding is also slated for three phases of construction to widen FM 741 from FM 2757 to U.S. Highway 175. According to the project component sheet, the project will be partially funded by the developer in the area.
$2 million each is designated to improve or research improvements on U.S. Highway 175 at the intersections of Elm Street, FM 1895, and CR 4005. $1.36 million is estimated to widen FM 3039 to a four-lane divided roadway from FM 148 to one mile south of the high school and $450,000 is estimated to widen the FM 741 bridge at U.S. Highway 175.

For a complete list of projects, visit the Kaufman County Bond website, here.
Early voting starts Monday, October 21, 2019, through Friday, November 1.
Election Day is Tuesday, November 5, 2019.
2019 Kaufman County Transportation Bond Project List by inForney.com on Scribd