Publisher's Note: Below is the first installment of a series of articles that inForney.com will share over the coming weeks. The information provided is the culmination of months long investigation into the increase in suicide deaths in Kaufman County. It is our hope and intent to inform you with the most recent data available and explain how we might be able to reduce the rate of suicide in the future. I have conducted countless hours of research, interviews, and data analysis to try and answer two simple questions. 1. What's causing the rise in suicide deaths? 2. What can we do about it? In Part 3 you will learn more about the resources available to those who need help in our area. In the meantime, if you or someone you know needs help, call 1-800-273-8255 for the National Suicide Prevention Lifeline.
KAUFMAN COUNTY, TEXAS – Since Saturday, Kaufman County has lost two more neighbors to suicide.
County officials, mental health experts, and the faith-based community are rallying together to provide services, support, and education for what might be the most important mental health crisis in recent history. From 2017 to 2018 deaths by suicide rose in Kaufman County by 225%.
Based on data provided by the Dallas County Medical Examiner's office and the Texas Department of State Health services and compiled by inForney.com, there were 12 suicides in 2017. In 2018, there were 27 suicide deaths reported.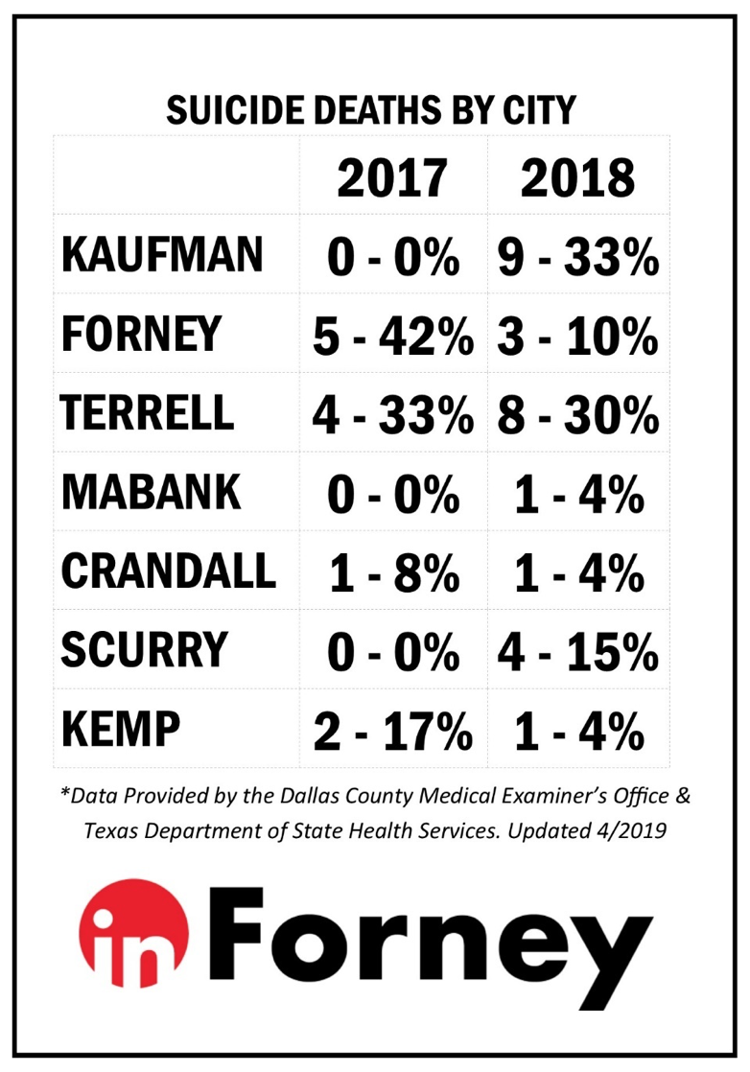 In 2017, 75% of those cases were men with the average age of 44. Last year, the numbers were similar with 74% being men with an average age of 49.
More than half of these cases were gun related in 2017; with 63% gun related in 2018.
According to research conducted by the University of Texas Health Science system, from 2012 to 2016, the state average was 12.2 suicides per 100,000 people. Nationally, the rate for 2016 was 13.5 suicides per 100,000 residents, or about 44,000 deaths annually. Kaufman county rates are beyond the state and national average based on our population.
Recently, the Texas legislature made small strides in addressing the more than 3,800 suicides in Texas in 2017. House Bill 18 authored by state Representative Four Price, R-Amarillo, mandates to add mental health to public school curriculum and to encourage school districts to partner with community health centers to prevent student suicides. Governor Abbott signed the bill into law earlier this month.
While student suicides have risen in recent years across Texas according to reports, Kaufman county data does not reflect that trend.
Public health advocates say part of the problem is that Texas ranks next to last in mental health spending per capita in the nation. A rider attached to the House version of the state budget would have required the department of Health & Human Services to spend an additional $2 million on suicide prevention initiatives over two years, but the provision was stripped by the Senate.
Lisa Sullivan, of the Texas Suicide Prevention Council at NAMI Texas, called the failed attempt "highly unfortunate."
"This rider would have also impacted broader suicide prevention efforts, including rural capacity building, deploying trainings and information, and expanding access to other vital resources," she said according to an article published by the Texas Observer earlier this month.
A few other bills that would expand suicide resources failed to make it out of committee during the session.
Currently, local law enforcement has been charged with triaging and responding to suicidal subjects who need mental health services.
According to data from the Kaufman County Sheriff's Office obtained by inForney.com, last year the department responded to 243 calls for service to respond to attempted suicides or a suicidal subject. In the first quarter of 2019, KCSO has responded to over 60 calls for service, indicating that the numbers are consistent with last year.
Kaufman County Justice of the Peace, Pct. 1 Mary Bardin has been anxiously watching the increase in suicides since she was first appointed to her bench in 2013.
"It is the hardest part of my job," Bardin says over lunch recently. "Knowing that someone was so hopeless and we weren't able to reach out to them in time is heart breaking. Every single one of those deaths was preventable."
A justice of the peace is required to pronounce all unattended deaths in the county, including suicides. Bardin responded to the most suicide deaths in the county last year according to records obtained by inForney.com, including a cluster of four suicides within a 36-hour period during the first weekend of December 2018.
"The first call was bad enough," Bardin recounts, "but after the second call, and then the third, I was completely devastated for the families and our community. After the fourth call I was in shock."
By state law, all suspected suicides are required to be sent for an autopsy at the county's expense. Last year Kaufman County spent over $72,000 dollars on autopsies for suicides alone.
Bardin says she believes that the stigma of suicide and mental health continues to prevent those from speaking out and asking for help.
Bardin bravely shared that her family had been personally affected by suicide in the past, and she understands the pain for the surviving friends and family, but believes that with conversation and education, we can help eliminate the stigma.
"I realize that it may be easier to not talk about it, but it's not a solution," Bardin says. "If we save one life, it will all be worth it."
If you or someone you know needs help, call 1-800-273-8255 for the National Suicide Prevention Lifeline.
In future installments we will talk with a local expert on the myths and warning signs associated with suicide. We will also explore how Kaufman county and state officials and local churches are working together to provide solutions for residents and how you can help prevent suicides in Kaufman County.