AUSTIN, Texas — The 87th Texas Legislature was gaveled into session today in what will be a historic 140 days ahead.
House District 4 State Representative Keith Bell of Forney and Senator District 2 Bob Hall of Canton were both in attendance to be sworn in to represent Kaufman County in their respective chambers.
Opening day is normally packed with visitors and well-wishers, but not this year because of both the pandemic and security concerns.
COVID-19 protocols require everyone entering the House and Senate chambers to first be tested. Inflatable testing tents have been erected near the Capitol's north entrance.
Members of the public and the State House of Representatives and their staff are required to wear masks. Senators are not.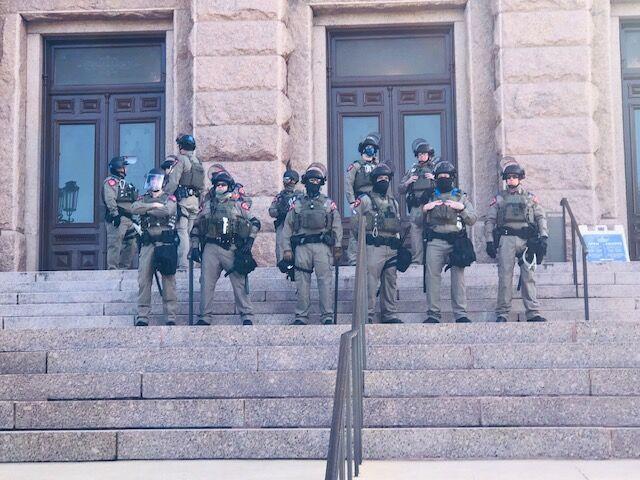 After last week's violence at the U.S. Capitol, the Texas Department of Public Safety sent more state troopers to secure the state capitol today both inside and out. Hallways usually filled with constituents were nearly empty with only staffers, members of the media and armed DPS officers.
Shortly after being sworn in, the House elected Beaumont Republican Dade Phelan as Speaker of the House with a 143-2 vote, 4 members not voting. Representative Bell voted with his colleagues.
Drafting and adopting the two-year state budget is the first big job for lawmakers, which will be more difficult because of the pandemic and economic downturn it created.
State Comptroller Glenn Hegar has already warned legislators about a $1 billion potential budget shortfall.
The state does have a savings account it calls the "Rainy Day Fund" but Republicans have been reluctant to tap into it. The fund's current balance is around $10 billion according to Hegar.
Redistricting for the next decade will also be a highly debated topic this session following the 2020 census. This will affect elected officials and voting precincts at the local level too.
Texas Democrats are pledging to bring about historic police reform, while Republicans say they will limit the amount cities can reduce police budgets.
Representative Bell is back in Austin for his second term that promises to be busy.
"It is imperative that this session be focused on supporting free and fair elections, increasing broadband access, backing law enforcement officers, defending the second amendment and protecting our constitutional freedoms," says Rep. Bell. "I look forward to ensuring Texas continues to lead by example by reinforcing the conservative values and policies that make Texas great. It is my privilege to serve, and I shall honor your confidence!"
While some House members have closed to their capitol offices to the public without an appointment, Rep. Bell's office remains open during normal hours.
Both the House and Senate are expected to work this week to adopt rules and calendars and then both recess until January 26th.