FORNEY, Texas — The Forney Downtown Business Association has chosen Eno's Pizza Tavern as their member of the month.
The Eno's Forney menu feature's signature thin crust pizzas in unique varieties ranging from Meatball & The Goat (fresh basil, goat cheese, sliced Texas beef and boar Texas meatball) to Pineapple Fresca (pineapple, arugula & parmesan salad, fresh jalapeño and Benton's ham). Other menu items include housemade soups, salads, pastas and sandwiches. Eno's offers a wide selection of local craft beers, wine and cocktails.
The use of locally sourced ingredients is an important aspect of the Eno's menu. In Forney, there are several special offerings to showcase local purveyors including a rotating selection of artisanal meats from 4-T's Bar-B-Q on The Perfect Picnic charcuterie board and Sunnyvale honey on the Pig Smiley pizza. The menu also features the Firehouse Deli sandwich – a nod to the location's former life as Forney Fire Station No. 1. Eno's famous Tavern Burger made with Texas beef, Calabrian aioli, housemade pickles, lettuce, tomatoes and onions was reintroduced on the Forney menu and has become a local favorite.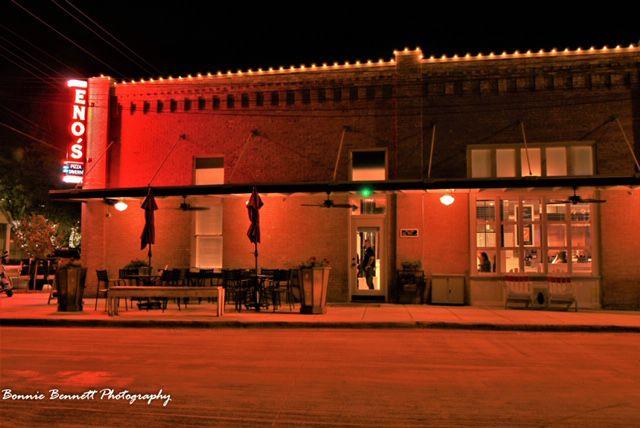 Originating in Dallas' Bishop Arts District, the 3,600 square foot restaurant in historic downtown Forney was Eno's second location. Since then the company has opened a third DFW location at Cypress Waters in Irving earlier this summer.
Eno's prides itself on being a "neighborhood establishment" and has jumped right in volunteering to host and promote local events, non-profits and causes. Eno's and their team have been collaborating with various groups to bring more visitors, businesses and locals to enjoy downtown Forney.
"We love operating Eno's Pizza Tavern downtown because this is where you find the most authentic businesses and the most passionate entrepreneurs," Frank Esser, Eno's Forney General Manager tells inForney.com. "We thrive in that fun, spirited environment."
Since opening Eno's Forney has expanded to local delivery, live music series, weekend brunch menu, special dinners and tastings and will be a driving force in the upcoming inaugural "Brews on Bois d' Arc" planned for October 5 in downtown.
Eno's Forney is open every day but Monday. For more information go to enospizza.com