ARLINGTON, Texas — Kaufman County's rich history of legendary cowboys premieres again tonight as the Wrangler® National Finals Rodeo (NFR) begins at the Texas Ranger's Globe Life Field in Arlington.
Kaufman county native and Terrell High School Alum, Clayton Hass, will make his fourth appearance at the finals during an unprecedented and historic year.
Hass, a 2002 Terrell High School graduate, is currently ranked 12th in the world in steer wrestling and will compete over the next 10 days, drawing number 91 as his back number, for prize money and bragging rights in one of the most unique NFR experiences of his career – one that's close to home.
The NFR originated in Texas and the first three years of the event were held at the Dallas State Fairgrounds beginning in 1959. Years later, the event moved to Las Vegas and has been staged annually at the Thomas & Mack Center at UNLV in Las Vegas since 1985. That venue is not available for live entertainment with fans this year due to coronavirus restrictions in Nevada. The announcement for the temporary move to Globe Life was announced by ProRodeo officials and title sponsor Wrangler this past Fall.
"It's pretty cool to have NFR so close to home," Hass tells inForney.com. "I have had so many friends and family who couldn't make the trip to Vegas in years past for various reasons; so this is a great opportunity for those who want to be a part of the action, can come and experience it with us."
Hass is not the first local cowboy to make an appearance at NFR. A host of participants, livestock contractors, flag bearers, pick-up men and world champions have been Kaufman county natives since NFR's inception.
Pro Rodeo Hall of Famer Don Gay, of Terrell, has won 8 bull riding world titles (1974-77, 1979-81, 1984), more than anyone else, a record he has held for the last 36 years.
Hass began his rodeo career at age 7, just a few miles from Gay's ranch north of Terrell.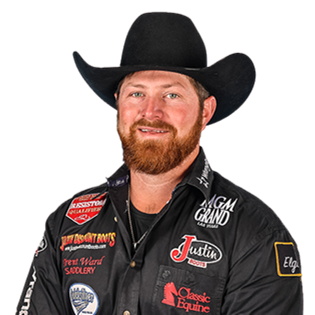 Growing up watching his parents, Jeff & Suzy, manage Lamar Ranch while practicing on a bucking barrel suspended by ropes in the back yard; Hass says he hoped he would end up at NFR, but says he never could imagine all the hard work and miles traveled to make it to the finals even once.
"It's pretty cool to see guys like Tyler Wade and I, who grew up going to rodeos and exposed to the business, doing what we love and making a career out of it," Hass says. "I hope the next generation is watching and inspired too."
Tyler Wade, also from Terrell, just narrowly missed qualifying for this year's finals in Team Roping, after breaking two NFR records in that event last year.
"This year has definitely been a challenge, there have been far less rodeos this year and there were lots of miles between them," Hass told inForney.com on Wednesday following grand entry rehearsals and class photo at Globe Life.
The Wrangler National Finals Rodeo, is the season-ending championship event for the Professional Rodeo Cowboys Association and is widely acknowledged to be the world's premier rodeo.
The top 15 contestants in bareback riding, steer wrestling, team roping (headers and heelers), saddle bronc riding, tie-down roping, barrel racing and bull riding – based on money won during the regular season including ProRodeo Tour events, the Justin Playoffs, and for many bull riders, PRCA Xtreme Bulls Tour earnings – qualify to compete at the Wrangler NFR. At the conclusion of the Wrangler NFR, the sport's world champions are determined based on total season earnings – what they win during the Wrangler NFR added to what they won before the Wrangler NFR.
Rodeo organizers are taking COVID-19 precautions seriously. Seats were sold in groups of four with separation between groups. Contact-limiting measures, such as mobile tickets and cashless payments, have been implemented throughout the event. There will also be metal detector screenings and a no bag policy at entries on performance nights. Masks are required unless eating or drinking for visitors and participants.
Reportedly sold out to an estimated 14,000 spectators each night, NFR is being televised nightly on the Cowboy Channel and RFD-TV. Check your local listings. For more information on the NFR click here.
Nearby Fort Worth will also play host to the Wrangler NFR 2020 experience, as the annual PRCA Convention will be held November 30 to December 3, 2020, in addition to the Cowboy Christmas the Junior Rodeo Finals and a slew of other rodeo related events.
Stay tuned to inForney.com for continuing coverage of Kaufman county ties to the historic NFR, including results and more from our exclusive interview with Hass.